Spotlight Film Festival at the Lincoln Theatre
Child Care Aware of Northwest Washington is thrilled to participate in the Spotlight Film Festival 2019, located at the Lincoln Theatre in Mt. Vernon. Child care providers who register in advance for Won't You Be Neighbor and/or Including Samuel will earn two free STARS hours in recognition and honor of the positive difference you make in children's lives every day.
Each film at the Spotlight Film Festival highlights a different topic, followed by a community panel or discussion. Join us as we dive into deeply relevant topics and conversations.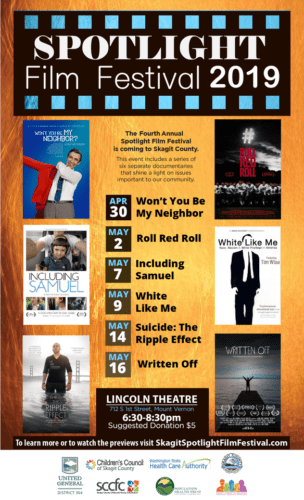 Won't You Be My Neighbor – April 30
Through his TV show, Mister Rogers' Neighborhood, Fred Rogers became a household icon, known for radical kindness and creating positive ways to speak to children about important topics. In a look at the life and legacy of Fred Rogers, Won't You Be My Neighbor examines his honest and open approach to helping children learn.
 Reserve your spot for Won't You Be My Neighbor.
Including Samuel – May 7
Photojournalist Dan Habib tackles the topic of inclusion in this film featuring his son, Samuel, who has cerebral palsy. This film documents the efforts of their family to include Samuel in every aspect of their lives and honestly portrays the family's hopes and struggles as they move through this continuous process. This film also includes the experiences of four other individuals with disabilities and their families to further demonstrate the cultural and systemic barriers to inclusion.
The showing of this film is sponsored by Skagit County Public Health Developmental Disabilities Program.
Register here to reserve your spot for Including Samuel
The films are free with a suggested donation of $5.00.