While limited, some options exist to help pay for child care. Some child care providers offer a sliding fee scale based on income, and the Working Connections subsidy program may be an option for families with low incomes.
Emergency Child Care Voucher Program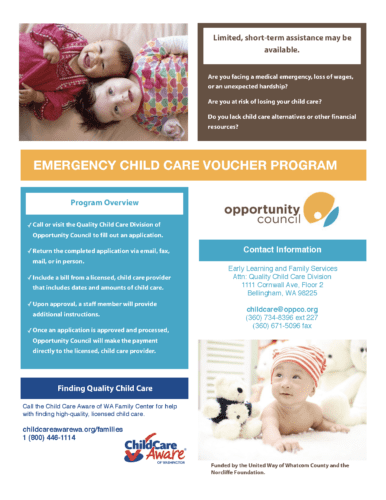 Short-term assistance with paying for child care may be available for you or someone you know:
If you are experiencing a medical emergency, loss of wages, or other unexpected hardship
If you have no other financial resources or child care alternatives and continuity of care is threatened
If you live in Whatcom, Skagit, Snohomish, San Juan, or Island County.
To apply, call (360) 603-0202 and ask to speak to someone about emergency child care vouchers. Upon approval, parents/caregivers will need to send a bill or invoice from a licensed child care provider. Approved payments will be made directly to the child care provider. 
You can also view and print programs flyers in English and Spanish.
---
Working Connections Child Care Program (Statewide)
Depending on your income, you may qualify for assistance to access quality, licensed child care at a greatly reduced rate. 
Visit  the Department of Children Youth and Families (DCYF) for eligibility requirements and application process.
You may apply directly by calling 1-844-626-8687. You will need to give DCYF the following information for yourself and the other parent if they live in the home with you and the child:
Name and phone number of your employer
Days and hours you work.
Your hourly wage
Your gross income for the last three months or your tax return for the previous calendar year
Amount of any unearned income you receive, such as child support or SSI benefits
Current child support order for the child who needs care, if any
Proof of your child's citizenship or legal residency
The name and phone number of the child care provider
Your phone number
If you are not eligible for the Child Care Subsidy program based on your income, some child care programs offer a sliding scale.
Call the Child Care Aware of Washington Family Call Center, 1-800-446-1114, and speak with a child care referral specialist for information and advice about locating child care,  applying for subsidy, or locating a program that offers a sliding scale.
---
Homeless Grace Period (Statewide)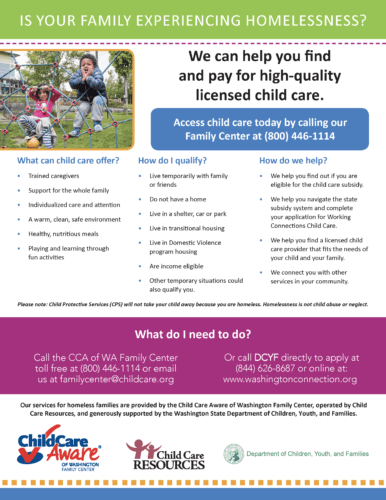 If you or somebody you know is experiencing homelessness, the DSHS Homeless Grace Period may be an option. As a first step, you are strongly encouraged to call Child Care Aware of Washington Family Call Center. 1-800-446-1114. A Child Care Referral Specialist can help you: 1) find out if you are eligible, 2) navigate the state subsidy system, and 3) connect you with additional resources.
You are eligible for the program if you:
Live temporarily with family or friends
Do not have a home
Live in a shelter, car, or park
Live in transitional housing
Are income eligible
Other temporary situations could also qualify – call to confirm eligibility.
You may also apply for the Homeless Child Care Program directly by calling DCYF 1-844-626-8687.
Para español, hace clique aquí.
---
Other Resources:
Visit the statewide Resource Finder website for links to food, nutrition, health, housing, and utility assistance https://resources.parenthelp123.org