You are warmly invited to join us for a  Legislative Q & A on January 5, 2022 from 6:00 – 7:30 p.m. State legislators will field questions from child care providers about current efforts to strengthen early learning and child care programs in Washington State. The session will be held via Zoom, and all are welcome to join. Click here to register for free.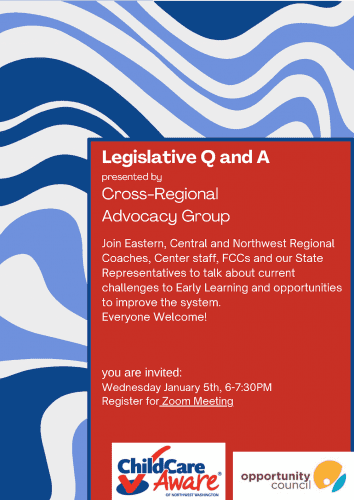 Advocacy works! Educating and engaging with elected officials helps create better legislation. Better legislation benefits our whole community. Last spring the Washington State Legislature passed the Fair Start for Kids Act. Among its many benefits, the Fair Start for Kids Act greatly expanded access to subsidized child care, reduced child care costs for families with low incomes, and increased compensation for child care businesses. These successes were made possible by early childhood educators, small business owners, friends, families, and community members who helped legislators understand the needs, challenges, and opportunities for high quality early learning and child care programs.
You can learn read more about other ways to participate in advocacy here.