Family Palooza is a free event in Skagit County for expecting parents and families with young children. Come on down to the Skagit County Fairgrounds to play and learn. Activities include faceprinting, balloon twisting. a Photo Booth, prizes and giveaways, and resources to support children and families.Visit Family Palooza to learn more.
Child Care Providers are also warmly invited to host a resource table for free to connect with families. Registration deadline for resource tables is August 28, and the registration fee is waived for all child care programs. Visit United Way of Skagit County to register your child care program.
If you have questions about registering resource table, contact Jen Linbeck at (360) 755-9521 ext 6.
What:    Family Palooza!
Date:    September 11
Time:    3:30 – 6:30
Where:  Skagit County Fairgrounds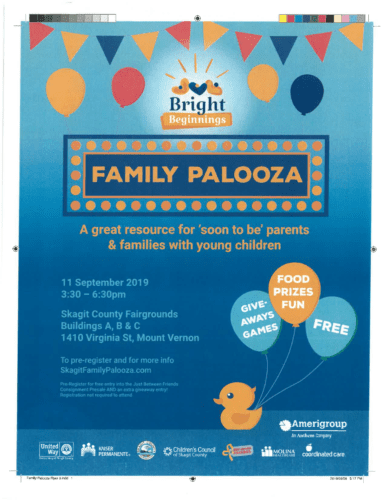 Family Palooza is co-sponsored by Skagit County Public Health, United Way of Skagit County, and Skagit County Children's Council.