The Child Care Nutrition program is part of the Child and Adult Care Food Program (CACFP), a federally-funded program to help family home child care providers serve healthy meals to the children they care for. Providers receive reimbursement for serving meals using a flexible and simple plan based around food groups such as meats and meat alternates, grains and breads, vegetables, fruits, and milk. 
How Does the Program Work?
Providers keep track of the meals they serve and the children who are present each day. 
At the end of each month, providers submit meal records online and receive reimbursement.
The Child Care Nutrition Coordinator will visit your program twice a year to observe mealtimes.
Who is Eligible?
All licensed child care providers, including licensed family homes and child care centers are eligible to receive reimbursement for serving healthy meals. 
Contact Information
Island, San Juan, Skagit, Snohomish, & Whatcom Counties
Email: Child Care Nutrition Coordinator
(360) 734-8396 ext. 1426
(888) 444-1862 ext. 1426
---
2022 Child Care Nutrition Program provider training and guidelines
After viewing the training presentation, please scroll down and sign the attestation form at the bottom of the page.  Thanks!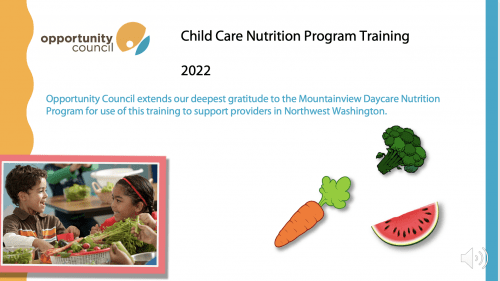 CACFP Video – English y español
Watch the the 2022 Child Care Nutrition Program training here
capacitación del Programa de Nutrición para el Cuidado Infantil 2022
Guidelines
2022 Crediting Handbook for the CACFP
Feeding Infants Handbook 2021
OSPI CACFP Approved Non-Dairy Beverages
Request for Fluid Milk Substitution
Reference Sheet Special Dietary Needs
Request for Special Dietary Accommodations
Required Postings and Handouts
CACFP Child Meal Pattern
CACFP Infant Meal Pattern
Standard Infant Menu
Building for the Future parent letter (english)
Building for the Future poster
Construyendo Para El Futuro poster
---
2022 CACFP Training Attestation
After you have completed watching the training video and reviewing the supporting documents, you must sign your name below.
I acknowledge that I have completed the 2022 CACFP Annual Training