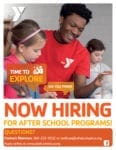 Visit Website Whatcom Family YMCA
Looking for a fun and impactful job? Want to hone your leadership skills, gain valuable work experience, and create meaningful relationships in a dynamic workplace? Look no further! You will work with elementary students and their families, providing them with an engaging environment, while also supervising and mentoring program assistant staff. 
This position requires someone who has plenty of energy, a happy demeanor, and strong leadership skills to supervise, teach, nurture, and encourage staff & all children with a balance of empathy, accountability, role modeling and hands-on work. We are looking for adaptable, hardworking, approachable, energetic, and compassionate individuals to join our team. 
With our programs running in over 20 elementary schools, we engage students through Art, STEM, Drama, Group Games and more. This is an opportunity to make a positive impact in the local community while working for a cause-driven, non-profit organization. We strive to serve the needs of our community and incorporate the values of caring, respect, responsibility, and honesty into everything we do. 
Convenient for college students or recent grads, the ideal candidate will have 5 day a week availability to provide consistency and structure at their school site location.  
Hours: 25 hours/week
Rate Of Pay: $14/hour
General Program Hours
AM Shifts
Bellingham Locations -M-F 6:30-7:30 AM
Ferndale Locations- M-F 6:45-9:00 AM
PM Shifts 
Bellingham Locations: MTWF 2:00 PM-6:00 PM, TH 12:15-6:00PM
Ferndale Locations:M-F 3:00-6:00 PM
Whatcom County Locations: M-F 2:15-6:30PM
Did this pique your interest? Follow this link for a full job description and to learn more about the Whatcom Family YMCA.