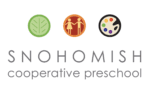 Visit Website Snohomish Cooperative Preschool
A non-profit school run by a community of parents and educators
Snohomish Cooperative Preschool is seeking talented and dedicated early childhood educators for our preschool. At Snohomish Cooperative Preschool, children blossom by playing and exploring freely in a safe and nurturing environment. Great attention is given to building our sense of community within the cooperative and having that same cooperative spirit flow throughout our interactions with one another.
Two to three positions are available to teach the following classes: 
2's Class: Wednesdays and Fridays from 9:30 a.m. to 11:00 a.m.
3's Class: Monday, Tuesday and Thursday from 9:15 a.m. to 11:15 a.m.
Pre-K Class: Monday through Thursday from 12:00 p.m. to 2:30 p.m.
A typical week includes class time, classroom set-up/clean-up, prep time, and required evening board and member meetings. 
Preferred Qualifications: 
Minimum two year college degree.
Two years teaching experience.
Experience in early childhood education or actively pursuing teaching certification.
Current CPR and First Aid Certification required before September 2019.
Experience with a member-run cooperative preschool.
Responsibilities:
Plans and prepares developmentally appropriate, play-based curriculum, including daily activities that are engaging and varied throughout the year.
Leads class and coordinates working members; serves as a model for best practice interactions with young children.
Maintains a balanced daily schedule including creative, physical, social, free-choice, and group activities that are interactive, hands-on and enhance students' independence.
Spends class time observing, interacting and participating in activities with the children.
Utilizes positive guidance techniques.
Communicates with members and other cooperative teachers in a supportive and caring way.
Shows a commitment to continuing education with a focus on the cooperative structure.
Works cooperatively with our school's other teacher(s) to develop monthly themes, share classroom space and help with supply inventory.
Attends monthly board and members meetings, occurring on the second and fourth Thursdays of each month from 6:30 to 8:30 pm.
Attends periodic teacher planning meetings at EdCC, along with member orientation, classroom set-up, member events and other scheduled activities as required by the cooperative.
Our cooperative preschool is affiliated with, and receives parent-education support from the EdCC Family Life Education Department (FLED). Teachers are expected to work closely with our FLED Parent Instructors.
Compensation: $17-22/hr dependent upon qualifications and experience, paid time off (sick/vacation), and professional development reimbursement.
Application Deadline: All positions open until filled.
Start Date:  Position begins summer of 2019 with monthly board meetings, a student meet and greet, classroom set-up and potential planning. Classes begin in September 2019 and run through May 2020.
Please send resume, 2-3 references and a sample lesson plan to:
Snohomish Cooperative Preschool ATTN: Ashley Durbin scpchair1@gmail.com
This program does not participate in Early Achievers.