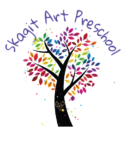 Visit Website Skagit Art Preschool
Skagit Arts Preschool, a nonprofit arts-focused preschool based in Mount Vernon, Washington, is hiring a preschool director who will oversee daily operations and help create a loving, nurturing and inclusive environment for children ages 2-6.  
Summary
The Preschool Director is responsible for ensuring the health, safety, and quality of education, for all children within the center's care. The Preschool Director is directly accountable for overall operational management in accordance with well-established guidelines, including curriculum development, staff and facilities management, legal and budgetary considerations, and long range planning. The Preschool Director ensures that the needs of the students and the goals of the center are met appropriately.
Duties
Execute the vision of an arts-centered, child-focused preschool where children can learn to express themselves through the arts and become school ready.
Maintain adherence to quality standards in accordance with the vision and with state and local requirements. 
Maintain quality effectiveness measurements.
Develop general educational curriculum; collaborate with staff to develop positive learning activities; manage adherence to state and local regulations.
Maintain student records in accordance with established enrollment procedures and guidelines.
Maintain communications with parents of current and prospective students through direct conversation, newsletters and parent handbook; implement community outreach activities to maintain and promote positive community relationships.
Approve menus and food purchases.
Maintain positive relationships with regulatory agencies; ensure legal and financial compliance.
Oversee all office functions including payroll, accounts payable and receivable, tuition billing and payment, human resources and personnel management (staff supervision) and purchasing.
Resolve conflicts (including corrective action when necessary) to ensure a positive experience for everyone.
Manage budget planning and review.
Establish illness and emergency procedures; ensure staff is trained appropriately.
Implement strategic plan and goals in keeping with mission of program.
Maintain personal professional development plan to ensure continuous quality improvement.
Report to the Board of Directors and assist with fundraising efforts. 
Preferred Requirements
Minimum of 3 years of supervisory experience.
5 years of direct professional experience in an early childhood setting.
High energy
Strong oral and written communications skills; technology skills.
Ability to work well with others (staff, children, and parents) and to foster a team environment.A strong understanding of child development.
Strong finance and budgeting skills.
Excellent leadership, organizational, and interpersonal skills.
Infant/child CPR and First Aid certification.
Must clear full background check.
Must pass health screening.
Bachelor's Degree or Master's Degree in early childhood education or related field of study with a minimum of 30 credits in ECE or the equivalent experience that qualifies for DCYF licensing requirements. 
This program participates in Early Achievers.