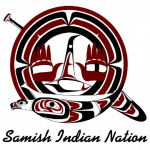 Visit Website Samish Indian Nation
Title:                                  Early Head Start Teacher
Supervisor:                      Early Head Start (EHS) Center Manager
Salary:                          $23.04 – $32.29 per hour, FLSA Non-Exempt
Hours:                               up to 40 hours per week, Monday-Friday with some weekend and evening work
Duration:                          Based on available funding, Full-time Regular status at completion of six-month probationary period
The Early Head Start Teacher reports directly to the EHS Center Manager and serves as one of two primary teachers for an assigned group of infants or toddlers in a center-based environment. Early Head Start child/teacher ratio is 4:1. Responsible for co-planning and implementation of educational programs with co-teacher for 0- to 3-year-old infants and toddlers which reflect best practices and integration of Samish Indian Nation culture, when possible, into curriculum. EHS teachers will loop with the same group of infants/toddlers for three years and move physically with them each year to the next developmentally appropriate classroom. EHS teachers are expected to share all responsibilities within their classroom, and to create an environment of nurturance and sharing with all children. Must be able to have open communication with co-teacher regarding daily operation of classroom and child/parent needs.
Principle Duties:
1.       Must maintain confidentiality of all child's and family information and records
2.       Assist the Educational Manager with planning and implementing age-appropriate child development lesson plans which provides a variety of activities designed to enhance infant and toddlers social, emotional, physical, cognitive, and intellectual development
3.       Promote a safe, attractive, and stimulating physical environment for infants and toddlers and also establishing and maintaining consistency of rules
4.       Reinforce positive self-image, pride, and cultural identity with infants and toddlers during all activities
5.          Mealtimes with children will be in a family setting with at least one teacher, preferably both sitting at the table engaging in conversation with the infants and toddlers
6.          Maintain accurate daily records on attendance, daily intake, medical log, infant and toddler eating/sleeping/toileting information for distribution in child file and to parents as well as other required forms
7.          Maintain weekly online documentation of your four assigned children's' developmental progress in ChildPlus as well as in Teaching Strategies Gold
8.          Assist the family and child, and other relevant staff in developing an Individual Family Services Plan (IFSP) or Individual Education Plan (IEP) for special needs children
9.          Conduct two home visits annually per family as stated in the Federal Performance Standards
10.    Works with other teachers to ensure daily program transitions are smooth and proper coverage for the classroom
11.   Completes other duties as assigned
The above statements are intended to describe the general nature and level of work performed by a person in this position. They are not to be construed as an exhaustive list of all duties that may be performed in such a position.
Required Qualifications:
1.       Minimum Child Development Associate (CDA) credential or be currently enrolled in a CDA certification program/early childhood education program
2.       Experience with infants/toddlers in a group setting preferred
3.       Must complete 30hrs Basic STARS course and 10 STARS hours of continuing education each year 
4.       Must have strong work ethic and daily attendance
5.       Computer literacy using Windows, Microsoft Office, Internet and email
6.       Proof of a physical examination within the last six months, which includes a tuberculosis test, and comply with other background checks as required by Samish Indian Nation and HSPS
7.       Possess a valid Washington State Driver's License
8.       Able to carry forty pounds without difficulty, sit in a child-sized chair, move quickly from multiple positions and levels, and ride on a bus 
9.       Subject to a thorough background check and work history
10.   Current physical and TB and obtain a First Aid/CPR card
11.   Provide three reference letters. References will be contacted
12.   Always maintain confidentiality except when directed to do so and/or when requested by law
Preferred Qualifications
1.        Preference for Associates Degree in Early Childhood Education
Working Conditions:
Physical Demands: Must be able to lift and carry 40 lbs; able to stand (40% of time), sit (30% of time) primarily in a chair and sometimes on the floor, as well as frequently stoop, squat, lift, kneel, bend, reach, and run (30% of time); possess manual dexterity sufficient to use hand writing materials, computers, and office equipment to prepare reports and documentation; be physically able to move through classrooms, ride along and load/unload from a school bus. Mental/Visual Demands: Constant mental, visual, and audio supervision of children and attention is needed. Tasks involve eye-hand coordination. Working Environment: mainly indoors with heat and some air conditioning. Outside time is required each day on playground or on field trips. Must be able to move around for the majority of shift. Unavoidable hazards/risks: Possibility of exposure to blood and bodily fluids; possibility of exposure to communicable diseases. Protective clothing or equipment may be required (goggles, gloves, masks, boots, etc.)  
Samish Indian Nation is an Equal Opportunity Employer and actively encourages applications from all persons regardless of race, religion, gender, gender identity, age, national origin, marital status, sexual orientation, or ancestry.  Samish preference and Indian preference will be applied to the selection for this position as defined in Title 25, US Code Section 473.
CONFIDENTIALITY:  This position develops, maintains, and is responsible for safeguarding the computer/electronic and hardcopy file folders containing sensitive and proprietary information about the Tribe and its members.  The incumbent must maintain confidentiality of all work and files pertaining to enrollment, clients, survey results, and all other material that may identify individuals by name (either directly or by reference), as set forth by the Tribal Council in the Personnel Manual.  Any violation in this matter may result in immediate termination of employment.
Please state your eligibility for Indian preference in your cover letter.  Indian preference must be documented prior to interview or hiring.  BIA Form 4432 or tribal enrollment ID may be submitted with the application if claiming Indian Preference.
All persons who are offered employment with the Samish Indian Nation must give permission for a thorough background check of previous work performance, motor vehicle history, credit history and criminal history, as well as a pre-employment drug screen.