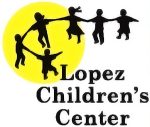 Visit Website Lopez Children's Center
An early learning center on Lopez Island.
LOPEZ CHILDREN'S CENTER IS SEEKING A NEW EXECUTIVE DIRECTOR
Lopez Children's Center (LCC), a non-profit organization, is the only licensed early learning program on Lopez Island.  We offer year-round programs for children aged 2.5 – 5 years.  LCC has been guided by the belief children develop a positive self-concept through a balance of child-initiated and teacher-directed activities and that children of this age learn best through play.  Staff serve as positive role models and offer care that is supportive, nurturing, warm and responsive to each child's individual needs.  We respect families as the primary and most important providers of care and nurturing and we believe that parents and teachers are partners in children's care and education. 
It is an exciting time at LCC as we begin to shift toward a Montessori -based curriculum under the guidance of a seasoned Montessori teacher.  Montessori education is student-led and self-paced but guided, assessed, and enriched by knowledgeable and caring teachers, the leadership of their peers, and a nurturing environment.  Our older preschool classroom is beginning that transition at this time, to a space that creates natural opportunities for independence, citizenship, and accountability—with multi-sensory learning and passionate inquiry.      
We currently have 28 children enrolled and 11 staff members. Our programs are ECEAP blended and have a Level 4 Early Achievers rating.  LCC is committed to providing high-quality early learning experiences that are accessible to all children and families on our small island. 
Lopez Island is located in the San Juan Islands, a 40-minute ferry ride from the mainland.  The beauty, tranquility, and sense of community are hard to beat.  Almost all Lopez children heading to kindergarten attend our programs.  As the Director of LCC you have the opportunity to be fully integrated with Island life and make a genuine difference in the lives of our Island children and families.  The Children's Center is a beloved organization and generously supported by the Lopez community.           
WHO ARE WE LOOKING FOR?
We are looking for a new Director with:
-A combination of qualifications, experience, skills, and passion for realizing the vision of Lopez Children's Center.
-Excellent administrative, leadership, organizational, and interpersonal skills in order to support and empower staff while ensuring a smoothly operating and fully compliant organization.
-Finance and budgeting skills to balance program priorities with affordable tuition.
-Flexibility, compassion, and a sense of humor to navigate managing an essential organization in a small community.
MINIMUM REQUIREMENTS:
-ECE State Certificate or equivalent. *25 ECE credits are required. It is possible to meet this requirement with a Professional Development Plan.
-Pass a DCYF Background check & TB test.
-Must meet and maintain all DCYF general qualifications and on-training requirements.
PREFERRED QUALIFICATIONS:
-Early Childhood Education degree.
-Two years ECE and/or Montessori teaching experience.
-Two years of experience in administration or management, preferably non-profit leadership.
-Knowledge & understanding of Foundational Quality Standards for Early Learning Programs (WACs) & ECEAP Performance Standards.
SALARY & BENEFITS:
-Salary ranges from $62,400 to $83,200 depending on qualifications and experience.
-$6,000 signing bonus.
-Temporary relocation housing available.
-Benefits include seven paid Holidays, two weeks paid winter vacation, 2 additional weeks paid vacation, paid sick leave, access to free mental health services, employer-paid Family Leave premiums, Airlift NW membership.
The Executive Director is hired by and answers to a non-profit Board of Directors.  This position is salaried & full-time year-round beginning in October 2023. 
TO APPLY:
Submit a letter of interest, along with a resume showing your experience and qualifications.  Please provide two professional references with contact information.
Send to:           PO Box 867, Lopez Island, WA  98261
Or email to:     lopezchildrenscenterboard@gmail.com