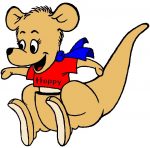 Visit Website Kids Klub Child Development Centers
Being the Center Director at Kids Klub Child Development Centers is different. It's different than almost every other child care center or preschool that exists. Why, because at Kids Klub you're not just sitting by watching children play, you're an instrumental part of their world on a daily basis helping them learn, explore and grow.
Kids Klub centers have to be seen to be believed. From our enormous fish tanks and reptile cages, to our expansive playgrounds, to our amazing theaters — our rotational learning center design gives children and immersive learning experience they cannot get at traditional child care centers. A World of Discovery awaits for not only our children, but for our staff as well. Check out our website at www.KidsKlubCDC.com to see what makes us different!
At Kids Klub, you will be part of a team, or really more of a family, that is committed to providing the best possible care for children, while also being responsive to the needs of our parents. We believe that in order to truly facilitate a child's well-being and development, a center should simplify parent's lives, not complicate them. We achieve this by providing flexible options for our parents, extended hours into the evenings and weekends, care for children of all ages, having on-site extracurricular classes, having hot home-made meals made by our on-site chef's, all in an environment unlike any other child care center.
Come join the Kids Klub family and help us deliver PEACE OF MIND to our parents! Be part of something that is truly amazing!
Since 1995, Kids Klub Child Development Centers have been the premier, state-of-the-art child development facilities offering unmatched career growth and opportunities for our staff. With 4 locations and a staff of 200 between California and Washington, the possibilities are endless!
We're looking for a passionate, energetic, full time, Center Director.
As the Center Director, you will lead with inspiration, genuine care, and share your extensive child development knowledge and experience with children, families and staff members. Come make a difference in the lives of others, build lasting memories, and shape the future!
JOB QUALIFICATIONS
EXPERIENCE
Must have:
Minimum of two (2) years paid successful experience as a Director of a Child Development Center / Preschool preferably in Washington State.
Hands on experience as a teacher with infants, toddlers, and preschool age children required. Experience with school age children also required.
EDUCATION
Must have:
Bachelor's degree (Child Development, Education or related field preferred)
AT LEAST (30) postsecondary semester units in Child Development or its equivalent with one or more courses in program administration REQUIRED
SKILLS
Must have:
Excellent interpersonal skills (both verbal and written) and ability to relate to young children, teachers, and parents
Strong organizational, leadership and managerial skills
PHYSICAL
Must be generally in good physical condition able to:
Lift up to 45 pounds
Move light furniture/school items
Perform Daily repetitive bending and rapid/active movement associated with working with children
RESPONSIBILITIES
The Center Director leads and manages the entire center—from its child development programs (e.g. Preschool, Infant/Toddler, School Age, Evening/Weekend, Extracurricular classes and special events) to its operations (e.g. maintenance, admissions, front desk, food program, transportation, marketing, staffing, etc.) Specific responsibilities include, but are not limited to:
Supervising and coordinating all child development and administrative staff.
Overseeing Admissions/Enrollment & Recruiting Process (including community events, marketing, etc.)
Managing Child Class Transitions and Waitlist
Coordinate Special Events (e.g. Thanksgiving, Mother's Day, Father's Day, Pre-K Graduation, Halloween, etc.)
Perform Orientations, Meet & Greets, and tours
Be knowledgeable of and adhere to state licensing regulations. Work with state and local agencies and comply with State Licensing Child Care Regulations including completing paperwork (i.e. health records, fire codes, etc.)
Maintain a variety of records, including registrations, permission slips, accident reports, medical records, etc.
Work with staff to execute planned curriculum that meets the mission of the center
Collaborate with teachers to plan instructional activities and lessons, which promote developmentally appropriate student learning.
Oversee the planning and execution of the child evaluations in relation to their school progress, abilities, and needs
Keep Executive Team informed of all necessary information including: customer and staff complaints, incidents, resignations, and planned/unplanned time-off.
Aid staff in planning parent/teacher conferences
Oversee facility maintenance
ATTRIBUTES
Be outgoing, always smiling, and have excellent communication skills both written and verbal
Problem-solve and work well as part of a team –be solution-oriented!
Provide excellent customer service
Have a big heart for children and families
HOURS:
This is a salaried, 40+ hours per week position
COME JOIN OUR TEAM! THE CHALLENGES & REWARDS WILL EXCEED YOUR EXPECTATIONS!
Check out our website: www.kidsklubcdc.com