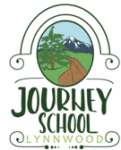 Visit Website Journey School Lynnwood
Journey School Lynnwood (JSL) is looking for a passionate and dedicated addition to our team starting in September.
JSL is a Reggio-inspired, partial outdoor preschool and fully outdoor Kindergarten that uses child-lead, project-based, emergent curriculum. An ideal candidate is someone who can create and implement programming that is developmentally appropriate and integrates hands-on activities and learning within the Common Core State Standards. Being an outdoor kindergarten teacher, you must love being outdoors with kids and getting down on their level in all sorts of weather. Helping students connect to the natural environment and their surroundings, is fundamental to our teaching process and approach. We also prioritize and help support our students' social emotional growth, which takes many forms, but most importantly, someone who can model positive behavior management and engagement. A candidate must demonstrate patience and flexibility in working with kids and have a sense of humor. Being a team player and remaining calm under pressure is critical.
Job Requirements:
·       Ability to manage groups of up to 12 Kindergarten students in an outdoor setting
·       Cultural competency working with urban and/or diverse populations
·       Readiness to collaborate with other Journey School educators in evaluating programs and developing activities
·       Enthusiasm in and knowledge about the outdoors
·       Willingness to give and receive feedback
·       Proficient using Google Drive
·       Ability to manage a schedule and meet deadlines including time management
·       Must be able to lift and carry at least 40 pounds
·       Ability to walk more than three miles
·       Willing and prepared to work outdoors in extreme temperatures
·       Ability to make presentations to students, teachers and parents, including attending meetings outside of the normal school hours
·       Willingness to communicate with other staff and interns outside of normal school hours
·       Competency in acting as the program leader for on-site programming during residential programs, assisting other staff, teachers and students in decision-making and incident management as needed
·       Ability to act as a curriculum leader for on-site activities and off-site field trips, serving to manage activity materials, updating activities and facilitating staff training.
·       Attends JSL monthly all-staff meetings and participates on committees or in extra-curricular activities as assigned
·       Adhere to all JSL policies and procedures
Desired Qualifications:
·       2+ years of teaching experience
·       Knowledge of the Common Core State Standards
·       Experience implementing outdoor education
·       Age Groups: Preschool, Grade School
Required Qualifications:
·       Must be 25 years old or older
·       Have two years of experience leading projects, activities and outdoor education for diverse audiences
·       BA in ECE/Elementary Education Degree
·       Washington State Teaching Certificate
·       First Aid Training, CPR Training
·       Excellent organizational and oral/written communication skills
·       Ability to work outdoors in all types of weather.
·       Clean driving record
If hired, candidate must provide current certification in CPR/First Aid, Blood Borne Pathogens and a negative TB test upon employment. Must be able to pass a DCYF criminal background check.
Benefits Include:
·       Competitive pay – starting at $19+/hr based on education and certifications
·       Medical/Dental/Vision insurance benefits offered with company contribution
·       Paid time off and sick leave
·       Engaged and supportive leadership and management. Open communication encouraged
·       Opportunity for professional growth and development
·       Free parking
Job Type: Full-time
Please visit our website at www.journeyschoollynnwood.com to learn more about our school, approach and philosophy.
This program participates in Early Achievers.