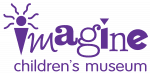 Visit Website Imagine Children's Museum
Empowering every child with a love of learning through play
Imagine Children's Museum is seeking a Lead Preschool Teacher for its brand-new half-day preschool. Our inaugural Pre-k program for 4-year-olds offers a hands-on, inquiry-based curriculum in a dedicated classroom within our Museum for an unmatched learning experience powered by play. With a low (1:6) teacher-child ratio and two educators in every classroom, this is an exciting teaching opportunity in an unmatched playful learning environment.
This is an exciting opportunity for a dynamic, visionary and experienced preschool teacher who wants to develop this preschool with excellence and integrity to become a premier early childhood development program for regional families. This is Monday-Friday, full-time, year-round position.
The successful applicant will be an experienced early learning teacher with a commitment to play and child-led discovery. He/she/they will work with an assistant teacher to lead two preschool classes four days a week (Monday-Thursday): 9 am – 12 pm and 1 – 4 pm. Fridays are for preparation, planning, meetings and training. There may be occasional evenings and weekends required in this role.
ESSENTIAL FUNCTIONS
Work closely with Imagine Children's Museum leadership, Preschool Manager, Preschool staff and Museum staff in delivering a high-quality program
Implement an age-appropriate, inquiry-based curriculum focused on social-emotional, physical, cognitive and academic development, including daily and weekly lesson plans
Evaluate children's development and skills, adjusting the curriculum when necessary
Maintain assessment data and prepare progress reports
Create an inspiring, clean, organized classroom and environment
Help guide and support children through the daily classroom schedule
Use positive reinforcement and redirection to guide behavior
Develop positive relationships with students and their families through proactive communication
Work collaboratively with supervisor, coworkers, students and their parents
Mentor and provide guidance to other educators
Attend and participate in staff meetings and training
Attend school events outside regular school hours including, but not limited to: Parent/teacher conferences, curriculum nights, performances, open houses, and professional development sessions
Follow all Imagine Preschool and Imagine Children's Museum policies
OTHER FUNCTIONS
Support and deliver Museum playful learning programming by presenting learning experiences at the Museum and in schools or other venues
Support, plan and teach summer camps and programming
Complete other job-related duties and projects as assigned
KNOWLEDGE, SKILLS AND ABILITIES
Commitment to developing an exciting new preschool focused on playful learning
Experience teaching and playing with preschool aged children (ages 3-5)
Ability to use playful learning approaches to teach children ages 1-12
Excellent classroom management skills
Demonstrated initiative, creative problem-solving and good organizational and time-management skills
Patience and flexibility
Excellent interpersonal skills
Strong written and verbal communication skills
Curiosity and love of learning new or unfamiliar topics
Ability to use technology and proficiency with Microsoft OfficePassion for advancing diversity, equity, accessibility, and inclusion in education
Physical ability and stamina to perform the essential functions of the position
Ability to lift, carry and move heavy objects, use stairs, and adapt to floor or table activities
Must have current CPR/First Aid and blood-borne pathogen training or the ability to obtain before beginning employment
Proof of full COVID vaccination required
EDUCATIONAL REQUIREMENTS
Completed or in the process of earning at least a two-year degree in Early Childhood Education or related field, a CDA or an equivalent level of education; Bachelor's degree preferred.
The above statements are intended to describe the essential job functions and level of work performed by individuals assigned to this classification. They are not to be construed as an exhaustive list of all job duties performed by the personnel occupying this position.
To apply please send resume and cover letter with salary requirements to employmentedu@imaginecm.org.