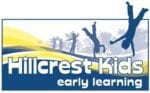 Visit Website Hillcrest Kids Early Learning
Hillcrest Kids Early Learning, an Early Achievers rated childcare center in Bellingham, is hiring for a Lead Preschool Teacher. The best person for this position will be one who loves working with children, is flexible with schedules and the early learning environment, has experience working with children and is pursuing early childhood education (if not already).
Duties: The Lead Teacher is responsible for creating a safe, loving and age-appropriate learning environment for the children in your care, in an Early Achievers rated childcare center. Familiarity with the Creative Curriculum is a bonus as this is the foundation for our curriculum used at Hillcrest. Responsibilities include, but are not limited to, creating an environment that meets the emotional, social, physical, and cognitive developmental needs of the assigned age group by providing weekly age-appropriate lesson plans and ensuring the safety of all children in a loving place. Classroom activities might include providing art projects, sensory-motor activities, story time, music and games. The ideal candidate will be a team player who is flexible, self-motivated and with experience in Early Childhood Education or childcare.
Requirements: High School Diploma, First Aid/CPR certification, Bloodborne pathogens/HIV training, portable background check with DCYF (can do this on date of hire but cannot work alone with children until cleared), Negative TB Test Result, Certificate or Degree in Early Childhood Education is a bonus.
To Apply: You may either print, at the link provided, our application for employment or, come to the school and pick one up. Drop off at Hillcrest Kids, 1400 Larrabee Ave, Bellingham, WA 98225 (Entrance is on the Old Fairhaven Parkway side of the building)
Contact: Melissa Elsner, Program Supervisor
Accepting Applications: Immediately. Start Date is end of July but, will need time for background check clearance and orientation.
Rate of Pay: $12.50+ an hour/depending on experience and education
Hours: 30-35 hours a week (depending on the school needs)