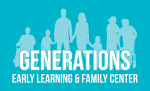 Visit Website Generations Early Learning & Family Center
To nurture growth, education, and community for all ages.
Desired candidates will be professional, patient, and flexible. Must have ability to work in fast paced environment, problem solve, self motivate, and stay organized. 
The Lead Cook is in charge of the preparation, cooking, and serving of snacks and meals for the early learning facility (60+ children/day + staff). Duties also include tracking food inventory, food stock orders, maintaining clean and organized kitchen (including dishes), complying with licensing and United State's Department of Agriculture's Child and Adult Care Food Program (USDA CACFP) requirements, attend occasional staff meetings, leading food service at special events, understanding children's allergies, and planning menu alternatives as needed. 
Job Responsibilities and Requirements: 
•Use prewritten 4-week rotating menu to prepare and serve meals and snacks ( creative input is welcomed)
•Maintain clean and organized kitchen 
•Knowing, understanding and complying with Washington State licensing and USDA CACFP requirements (will be trained)
•Basic math skills to determine serving sizes, quantities, and measurement equivalents  
•Food Services of America ordering and stock
•Maintain valid Food Handler's card
Minimum Qualifications
•High school diploma
•Negative TB Test
•Pass background check
•Ability to load and push kitchen carts throughout facility and lift and carry 50+ pounds
Proof of MMR and covid vaccines
Desired Qualifications 
•Experience in commercial kitchen
•Education in nutrition, food preparation/storage, menu planning, allergies 
•Experience working with/around children 
Position can include potential for working in classrooms if desired and qualified. 
This program participates in Early Achievers.