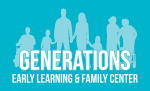 Visit Website Generations Early Learning & Family Center
Teacher assistants responsibilities include: assisting teacher with lesson planning, implementing developmentally appropriate activities, following a daily schedule, maintaining a clean and organized classroom.
This position is located in a child development center, which is set in an extended care facility. Must be comfortable with senior citizens as well as people with disabilities. Must be comfortable working with children ages 1-6.
Opportunity for benefits: health, retirement, vacation, and sick pay.
Requirements: experience with children (ages 1-6), valid CPR first aid card, food handler's permit, or willingness to acquire those upon acceptance of position. Must submit to a DCYF criminal background inquiry, and Washington State training and registering system (STARS). Must be able to lift and move up to 50 lbs.
If interested, please email resume at heidi@intergenchildcare.com, indicating position you are interested in. Call 360-752-6336 for questions. For more information go to intergenchildcare.com.
This program participates in Early Achievers.