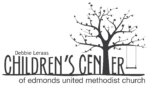 Visit Website Debbie Leraas Children's Center
Preschool / pre-k / school-age before & after care
We currently provide Preschool & Pre-k with full and half day options as well as Before and After School Care for children in Kindergarten through 6th grade during the school year. During the summer we also provide a Preschool and Youth Summer Camp Program. 
Lead Preschool Teacher: 4-5 Year old class for the 2019-2020 school year
Small class size of 9 children. Play/Emergent-based curriculum. Excellent program, supportive long-term co-workers and beautiful facility (including a nature playground)
The Children's Center is located in the Edmonds United Methodist Church, 828 Caspers Street in Edmonds, WA
We Provide:
Compensation that is very competitive and will be determined based on experience, education and years in the field
401(k) with 6% employer match
Generous paid time off (personal, sick, vacation, snow days & 10 holidays)
Medical, Dental, Vision & Accident Insurance available to employees working 30 hours or more
 Some flex time, weekly reflective team meetings, daily/weekly individual planning time (5 hours per week), paid training
Paid in-service days and educational scholarships available
QUALIFICATIONS: This position requires a warm, relational disposition; comprehensive knowledge and understanding of developmental stages of children and best practices in Early Childhood Education; ability to independently manage a classroom; strong organizational & communication skills (verbal & written). Must have the ability to build positive relationships with families and other staff; and to plan and implement a developmentally appropriate curriculum based on children's needs and interests.
REQUIREMENTS: Minimum requirement is an Associate's Degree in ECE or a CDA; Bachelor's degree in Early Childhood Education preferred. Previous classroom experience or practicum work, experience as a lead teacher preferred.
SALARY: The salary range for this position is $17-17.50/hour
TO APPLY: Please introduce yourself in a cover letter and submit it with your resume to Kim Erickson, Director of the Children's Center at either the above address or by email at kimg@edmondsumc.org
Please direct your questions to Ms. Erickson at 425-774-4458 or kimg@edmondsumc.org
The scheduled deadline for applications is August 19, 2019 but will remain open until position is filled.
Interviews of selected candidates will begin the week of August 19-23, 2019 with a projected start date of August 26, 2019
This program participates in Early Achievers.