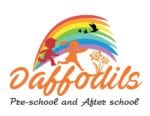 Visit Website Daffodils Preschool
Daffodils Preschool is looking for an energetic School-age teacher to join our team. Must be available to work between the times of 8:00am-6:30pm. We thrive on creating a warm, nurturing, and safe environment for our children. We strive to be organized and work together with our parents to build positive relationships. We have quite a few long term families.
**Must be able to pass a background check.
**Must be at least 18 years old.
**Must be reliable and dependable.
**Must have a valid drivers license
**Must have clean driving record for at least 5 years
** Must have experience and a passion working with children.
**Will work with 5-12 year olds to before and after school
**Will transport students to school in the morning and pick them up from school in the afternoon
Benefits for employees:
**Paid Vacation after one year of employment
**50% Discounted Tuition for Staff Children
**Paid Holidays
**Scholarships for ECE Education Available
You may email your resume but in order to get hired you must come in and fill out an application. We do interviews right on the spot. Thank you.
This program participates in Early Achievers.