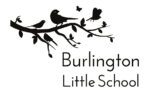 Visit Website Burlington Little School
A teacher at Burlington Little School is responsible for:
Understanding the ways children develop and continually improving their own learning and professional practice as a teacher who guides and supports that development
Establishing an engaging Learning Environment that is child centered and will support the learning of a diverse group of children with unique learning needs
Cultivating positive relationships between children, families, staff and their larger community to strengthen the foundation for healthy learning and child development
Being aware of, documenting and reporting to families the strengths and next steps of the children in their classrooms
Professional Qualifications:
STARS 30 hour Child Care Basics
Early Childhood Education Certificate or Associates Degree
DCYF Portable Background Check
First Aid, Infant and Child CPR, BBP training and certification, negative TB test
Toddler/Preschool Assistant Teacher – 33 hours per week, Monday-Wednesday 9:00 am-5:30 pm and Thursday-Friday 8:45am-12:30pm. Schedule will change in January and hours will increase from 33 to 39 hours week for the remainder of the 2020-21 school year.
Pay: $14.25 per hour
Please visit our website at burlingtonlittleschool.org to learn more about our school.
This program participates in Early Achievers.