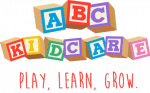 Visit Website ABC Kidcare
Preschool/ Childcare Program Lead teacher
This is a permanent, M-F full time position, schedule alternates weekly between 9:30- 5:30 AND 8:45 to 4:45. Position pays 17.50 – 20.00 per hour depending on experience and education. In order to best serve the needs of our children, we are looking for someone who is committed to becoming a long term member of our community.
Established in 1999, ABC Kidcare is a small, locally owned family business serving 16 children. We are looking for an energetic person who shares our passion for working with children in a positive and nurturing environment. Our teachers must be collaborative, reliable, flexible and enthusiastic about early childhood education. Preference will be given to applicants living within the Skagit Valley. Qualified individuals must have: High School Diploma or GED and must complete Health Department CPR/First Aid/ Blood borne pathogens certification and 30 hours of STARS basic training (available online, but must be completed within 90 days of hire.) Additional WAC mandated continuing education will be expected for this position.
Duties span all aspects of childcare, including, but not limited to: assisting with lesson planning and maintaining student portfolios, direct positive student supervision, meal preparation, both routine and deep cleaning as needed.
Unfortunately, we are unable to accommodate applicants wishing to bring their own children.
Please submit a resume with a cover letter
Looking forward to hearing from you.
Job Type: Full-time
Pay: $17.50 – $20.00 per hour
Benefits:
Paid time off
Schedule:
8 hour shift
Day shift
Monday to Friday
COVID-19 considerations:
Covid Vaccination is required
Ability to commute/relocate:
Mount Vernon, WA 98273: Reliably commute or planning to relocate before starting work (Required)
Education:
High school or equivalent (Required)
Experience:
Childcare: 1 year (Required)
License/Certification:
CPR Certification & First Aid (Preferred)
Child Development Associate Certification (Preferred)
This program participates in Early Achievers.