Thank you for your interest. Due to a number of inquiries we have placed this application on hold. 
Please email C-RECC at childcarebiz@oppco.org with any questions.
Innovative Approaches to Child Care Sustainability Grant
Who:

Licensed Child Care Providers
What: Grant opportunity

When:

Application opens December 19, 2022 and priority consideration will be given to applications received by January 22, 2023. The funding cycle ends November 30, 2024.
Where:  Child Care businesses located within Whatcom County (cities and/or rural)

Why:

The goal of the funding is to help child care providers recover from the pandemic, keep their critical workforce employed, and maintain child care access for Whatcom County families.
The Center for Retention and Expansion of Child Care, Northwest (C-RECC, NW) a partnership between the Early Learning and Family Services Department (ELAFS) of the Opportunity Council and the Bellingham Regional Chamber of Commerce, requests grant proposals from licensed child care businesses located within all areas of Whatcom County.
The funding is provided to C-RECC, NW and is jointly financed by Whatcom County and City of Bellingham federal allocation of American Rescue Plan Act (ARPA) dollars. Awarded grants will focus on assisting child care businesses with organizational and workforce stability as a means supporting the child care needs of local families.
The public health crisis of COVID-19 had a devastating effect on the child care industry. Whatcom County and City of Bellingham elected officials, using the federal government's identification of the early learning and care sector as an impacted industry, have elected to make some of its ARPA dollars available to support open, licensed child care business owners/providers. Under this initiative, funding will provide both immediate and long-term benefits for the children, families, and employers throughout the county.
Qualifying child care business owners/providers impacted by COVID-19 may apply for financial assistance. To request assistance for the initial round of available funding complete the application, including required certification and submit to C-RECC, NW/Opportunity Council.
Provider Eligibility
Licensed child care providers located in Whatcom County, currently open, and licensed prior to March 31, 2022.
Suffered business losses (revenue) and business interruption (lower enrollment) due to COVID-19
Business is not facing any pending litigation or legal action
Business is not suspended or debarred from the use of federal funds
Business is not delinquent on any taxes.
Must demonstrate ability to accomplish the goals/plan submitted in application within the financial award range based on child care business size.
This is a competitive application process and submitting an application is not a guarantee of assistance.
Use of Funding. Creativity Welcome and Encouraged!
Funding should be aimed at recovery and resilience of your child care business post-pandemic.
Eligible uses include but are not limited to:
Staff innovation strategies such as extra hands/float staff, IEP teacher, etc
Increased pay for employees, bonuses for employees
Minor home/facility repair for licensing health and safety compliance
Education Supplies including supports/assistance needed to care for children with special care needs and disabilities
Personal Protective Equipment to protect staff and young children's exposure to illness
Non-Eligible uses include but are not limited to:
Large home/facility repairs and improvements
Capital projects
Start-up costs
Credit Card debt, capital debt, business/personal loans
Mortgage/rent debt
Utility usage payments 
Informational Webinars
Three informational Zoom sessions were offered to providers. If you missed the informational session the power point link is below.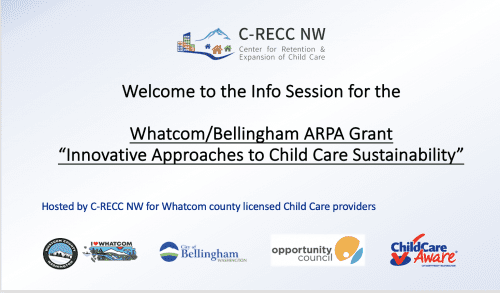 NOTE: This application is currently on hold. Please email C-RECC at childcarebiz@oppco.org with any questions. 
Questions? 
Please review the Information Session Power Point and the Questions & Answers (Q & A) below.
If your question is not answered please reach out to C-RECC at childcarebiz@oppco.org.
REVISED 4-1-2023
When does the application open?
The Whatcom Bellingham ARPA grant opens Monday, December 19, 2022.
¿Cuándo se abre la aplicación?
La subvención ARPA de Whatcom Bellingham se abre el lunes 19 de diciembre de 2022.
When does the application close?
The Whatcom Bellingham ARPA grant cycle runs through November 30, 2024 or when funding runs out. A first round of awards will be made in early to mid-February based on all proposals received prior to January 23, 2023.  Thereafter, batches of proposals will be reviewed on a rolling basis until funds are exhausted. 
¿Cuándo se cierra la aplicación?
El ciclo de subvenciones de Whatcom Bellingham ARPA se extiende hasta el 30 de noviembre de 2024 o cuando se agotan los fondos. Se realizará una primera ronda de adjudicaciones entre principios y mediados de febrero en función de todas las propuestas recibidas antes del 23 de enero de 2023. Posteriormente, los lotes de propuestas se revisarán de forma continua hasta que se agoten los fondos.
What can I use the funding for?
Funding should be aimed at recovery and resilience of your operations post-pandemic. Allowed uses include, but are not limited to:  
Staff retention and recruitment innovation strategies  
Increased pay for employees 
Minor home/facility repair for licensing health and safety compliance  
Education Supplies including supports/assistance needed to care for children with special care needs and disabilities 
Personal Protective Equipment to protect staff and young children's exposure to illness 
¿Para qué puedo usar los fondos?

La financiación debe estar dirigida a la recuperación y resiliencia de sus operaciones después de la pandemia. Los usos permitidos incluyen, pero no se limitan a:
Estrategias innovadoras de retención y contratación de personal
Aumento de salario para los empleados
Reparaciones menores del hogar/instalaciones para el cumplimiento de licencias de salud y seguridad
Suministros educativos, incluidos los apoyos/asistencia necesarios para cuidar a los niños con necesidades especiales y discapacidades
Equipo de protección personal para proteger al personal y a los niños pequeños de la exposición a enfermedades
What can I NOT use the funding for

Large home/facility repairs and improvements

Capital projects

Start-up costs

Credit Card debt, capital debt, business/personal loans

Mortgage/rent debt

Utility usage payments 
¿Para qué NO puedo usar los fondos?
Grandes reparaciones y mejoras en el hogar/instalaciones

Proyectos de capital

Los costos de puesta en marcha

Deuda de tarjeta de crédito, deuda de capital, préstamos comerciales/personales

Deuda de hipoteca/alquiler

Pagos de uso de servicios públicos
"4.3. May recipients use funds to pay interest or principal on outstanding debt? No. The final rule maintains the restriction on the use of funds for debt service for the reasons described on page 4430 of the final rule and clarifies that this restriction applies to all eligible use categories. This applies to paying interest or principal on any outstanding debt instrument, including, for example, short-term revenue or tax anticipation notes, or paying fees or issuance costs associated with the issuance of new debt."
Can you explain how you came up with March 31,2022 as your cut off for being licensed?
The date chosen is equivalent to 6 months prior to the Governors proclamation declaring the pandemic to be over, which establishes at least 6 months of impact in order to be eligible.
¿Puede explicar cómo se le ocurrió el 31 de marzo de 2022 como fecha límite para obtener la licencia?
La fecha elegida es equivalente a 6 meses antes de la proclamación del Gobernador declarando el fin de la pandemia, que establece al menos 6 meses de impacto para ser elegible.
If I did not have any pandemic impact am I still eligible to apply? 
The public health crisis of COVID-19 had a devastating impact on the child care industry. Loss of enrollment/revenue, increased expenses and challenges with retaining and/or recruiting staff are a few examples. If you are unsure how your business was affected please reach out to your CCA NW Early Learning coach or C-RECC. 
Si no tuve ningún impacto pandémico, ¿sigo siendo elegible para presentar una solicitud?
La crisis de salud pública de COVID-19 tuvo un impacto devastador en la industria del cuidado infantil. La pérdida de inscripción/ingresos, el aumento de los gastos y los desafíos para retener y/o contratar personal son algunos ejemplos. Si no está seguro de cómo se vio afectado su negocio, comuníquese con su entrenador de aprendizaje temprano de CCA NW o C-RECC.
Do I need to supply tax documents? 
The application process does not include submission of tax documents. Do not send tax documents with the application. 
 ¿Necesito proporcionar documentos fiscales?
El proceso de solicitud no incluye la presentación de documentos fiscales. No envíe documentos fiscales con la solicitud.
Will receiving this money affect other money I have received like the DCYF Stabilization? 
You can apply for and receive this funding even if you have been granted funding from other sources. You cannot use this funding for the same use as other funding, for example if you have received assistance for December rent payment you cannot also use this funding for December rent payment.  Applying for these dollars also does not prohibit you from seeking other new funding, including other ARPA dollars, currently being made available by local, state or federal governments. 
¿Recibir este dinero afectará otro dinero que he recibido como la Estabilización DCYF?
Puede solicitar y recibir esta financiación incluso si se le ha concedido financiación de otras fuentes. No puede usar este financiamiento para el mismo uso que otros fondos, por ejemplo, si ha recibido asistencia para el pago del alquiler de diciembre, no puede usar este financiamiento también para el pago del alquiler de diciembre. Solicitar estos dólares tampoco le impide buscar otros fondos nuevos, incluidos otros dólares de ARPA, que actualmente están disponibles por parte de los gobiernos locales, estatales o federales.
Can I use it to put a covered porch? 
No. Large capital improvements are a not an eligible use of these funds. Repairing an existing structure depends on the scope of the project and whether it meets the standard for "minor" repairs. Consult with your Early Achievers coach and/or C-RECC. 
¿Puedo usarlo para poner un porche cubierto?
No. Las grandes mejoras de capital no son un uso elegible de estos fondos. La reparación de una estructura existente depende del alcance del proyecto y de si cumple con el estándar para reparaciones "menores". Consulte con su entrenador de Early Achievers y/o C-RECC.
I feel recovered from the impact, what are ways I can use these funds? 
Employee retention, increased pay for employees and/or bonuses, educational supplies, minor improvements for health, safety and licensing compliance could be some of the ways you can achieve resilience for your operations post-pandemic.  
Me siento recuperado del impacto, ¿cuáles son las formas en que puedo usar estos fondos?
La retención de empleados, el aumento del salario para los empleados y/o las bonificaciones, los suministros educativos, las mejoras menores para el cumplimiento de la licencia, la seguridad y la salud podrían ser algunas de las formas en que puede lograr la resiliencia para sus operaciones después de la pandemia.
With this being a competitive grant, how is it decided whether applications are accepted or not? Do they prioritize different uses of the funds? 
The grant review committee uses a scoring rubric. This includes points for provider eligibility, families/children served, pandemic impact, provider need and success probability with use of funds.  Innovative solutions that could be taken to scale in the child care sector will also be an advantage in the committee's review. 
Siendo esta una subvención competitiva, ¿cómo se decide si se aceptan o no las solicitudes? ¿Priorizan diferentes usos de los fondos?
El comité de revisión de subvenciones utiliza una rúbrica de puntuación. Esto incluye puntos por elegibilidad del proveedor, familias/niños atendidos, impacto de la pandemia, necesidad del proveedor y probabilidad de éxito con el uso de los fondos. Las soluciones innovadoras que podrían llevarse a escala en el sector del cuidado infantil también serán una ventaja en la revisión del comité.
If a provider asks for the maximum amount of funds, are they restricted to that amount? Or, can they get a reduced amount based on number of applicants?  
Each provider license type has an award range (see power point).  
Since we don't know how popular this funding is going to be, it is hard to guess amounts providers will ask for and how fast the funding will be spent. We encourage you to apply early. If the review committee has questions about the amount asked, you will be contacted for more information.  If insufficient funds remain at the time of award to fully fund a proposal, the applicant will be contacted to see if a negotiated smaller amount can still meet some portion of an expressed critical need. In that case the award might be smaller than the maximum asked for.  
Si un proveedor solicita la cantidad máxima de fondos, ¿está restringido a esa cantidad? O, ¿pueden obtener una cantidad reducida según el número de solicitantes?
Cada tipo de licencia de proveedor tiene un rango de adjudicación (ver power point).
Como no sabemos qué tan popular será esta financiación, es difícil adivinar las cantidades que pedirán los proveedores y qué tan rápido se gastará la financiación. Lo animamos a presentar su solicitud con anticipación. Si el comité de revisión tiene preguntas sobre la cantidad solicitada, se comunicará con usted para obtener más información. Si quedan fondos insuficientes en el momento de la adjudicación para financiar completamente una propuesta, se contactará al solicitante para ver si una cantidad menor negociada aún puede satisfacer una parte de una necesidad crítica expresada. En ese caso, el premio podría ser menor que el máximo solicitado.
How long do we have to spend the funding?  
Funds will be spent during the 12 months of coaching. 
Final spending of ARPA funding needs to be completed by November 30, 2024 
¿Cuánto tiempo tenemos para gastar los fondos?
Los fondos se gastarán durante los 12 meses de entrenamiento.
El gasto final de la financiación de ARPA debe completarse antes del 30 de noviembre de 2024
Can funds be used to directly support affordability for families?  E.g. to fund sliding scales for low income?   
No. 
¿Se pueden usar los fondos para apoyar directamente la asequibilidad de las familias? P.ej. para financiar escalas móviles para bajos ingresos?
No.
If my application is not approved will I receive feedback? 
Yes. The OC/C-RECC/CCA team are dedicated to helping providers learn through this grant process, which could be helpful for concurrent or future funding opportunities. 
Si no se aprueba mi solicitud, ¿recibiré comentarios?
Sí. El equipo de OC/C-RECC/CCA está dedicado a ayudar a los proveedores a aprender a través de este proceso de subvención, lo que podría ser útil para oportunidades de financiación concurrentes o futuras.
If we want to expand can we use this funding?
This funding cannot be used for capital projects such as building renovation or purchasing a building. It can be used to recruit/hire staff and purchase equipment/supplies for expansion.
Si queremos expandirnos, ¿podemos usar esta financiación?
Esta financiación no se puede utilizar para proyectos de capital, como la renovación de edificios o la compra de un edificio. Se puede utilizar para reclutar/contratar personal y comprar equipos/suministros para la expansión.
How will this affect my taxes? 
All grants are taxable income but may be offset by allowable expenses under the tax code.  Grants deposited in 2023 are considered 2023 income. You may receive a 1099 form from the Opportunity Council. Please consult with your accountant if you have questions about filing your taxes and/or tax documents. 
¿Cómo afectará esto a mis impuestos?
Todas las subvenciones son ingresos sujetos a impuestos, pero pueden compensarse con gastos permitidos según el código fiscal. Las subvenciones depositadas en 2023 se consideran ingresos de 2023. Recibirá un formulario 1099 del Opportunity Council. Consulte con su contador si tiene preguntas sobre la presentación de sus impuestos y/o documentos fiscales.
How is this different than the stabilization grant I received from DCYF?
The Stabilization funding is offered by DCYF. The Innovative Approaches to Child Care Sustainability Grant is offered through a collaboration of City of Bellingham and Whatcom County ARPA funding. 
¿En qué se diferencia esto de la subvención de estabilización que recibí del DCYF?
El financiamiento de Estabilización es ofrecido por DCYF. La Subvención de Enfoques Innovadores para la Sostenibilidad del Cuidado Infantil se ofrece a través de una colaboración de fondos ARPA de la Ciudad de Bellingham y el Condado de Whatcom.
A big part of COVID loss has been trained staff who have left the field. We are experiencing a challenge with the path for new staff to get proper training and professional development to comply with licensing. Can we use this funding for PD?
A second wave of funding is aimed at employee credential scholarships but that contract has not yet been released. We are researching this question per the usage of these grant dollars toward teacher required education and will post the answer from our funders when we have their response.  
Una gran parte de la pérdida de COVID ha sido personal capacitado que ha dejado el campo. Estamos experimentando un desafío con el camino para que el nuevo personal obtenga la capacitación y el desarrollo profesional adecuados para cumplir con las licencias. ¿Podemos usar esta financiación para PD?
Una segunda ola de financiamiento está dirigida a becas de credenciales para empleados, pero ese contrato aún no se ha publicado. Estamos investigando esta pregunta según el uso de estos dólares de la subvención para la educación requerida por los maestros y publicaremos la respuesta de nuestros patrocinadores cuando tengamos su respuesta.
Given the small community in which providers live and work, how will the review committee ensure applications are managed in a fair and equitable way? Will identifying markers be removed during the review process?
The review panel is defined by the funders' contract with C-RECC. In addition, a unique identifier will be substituted for provider ID details to enhance objectivity during the review phase.  
Dada la pequeña comunidad en la que viven y trabajan los proveedores, ¿cómo garantizará el comité de revisión que las solicitudes se gestionen de manera justa y equitativa? ¿Se eliminarán los marcadores de identificación durante el proceso de revisión?
El panel de revisión está definido por el contrato de los financiadores con C-RECC. Además, se sustituirá un identificador único por los detalles de identificación del proveedor para mejorar la objetividad durante la fase de revisión.
Preparing for the application recommends consulting with our coach because by accepting this funding there is 12-months of business stabilization and technical assistance support collaborating with your existing Early Learning Coach and RECC, NW.
Can you tell me what this means?
As part of the contract, the funders required 12 months of support/coaching for providers regarding the grant usage. This required support will be integrated with work you already do with your Early Learning coach and will include the requested needs/use of funding stated on your application. For example, if you request funding support to retain staff, your coach will ask about your strategy to do things differently, present best practices from elsewhere, if desired, etc. Another example might be you request materials, equipment or staffing to help you in your work with children who have special needs. Your coach can observe the child or children using those materials, suggest adaptations or alternatives. Providers who do not participate in Early Achievers will have an assigned coach. If you do not wish to work with an Early Learning coach you can consult with the C-RECC team.  
Al prepararse para la solicitud, se recomienda consultar con nuestro capacitador porque, al aceptar esta financiación, hay 12 meses de estabilización comercial y soporte de asistencia técnica en colaboración con su capacitador de aprendizaje temprano existente y RECC, NW.
¿Me puede decir lo que esto significa?
Como parte del contrato, los financiadores requerían 12 meses de apoyo/entrenamiento para los proveedores con respecto al uso de la subvención. Este apoyo requerido se integrará con el trabajo que ya realiza con su entrenador de aprendizaje temprano e incluirá las necesidades solicitadas/uso de fondos indicados en su solicitud. Por ejemplo, si solicita apoyo financiero para retener al personal, su entrenador le preguntará sobre su estrategia para hacer las cosas de manera diferente, presentará las mejores prácticas de otros lugares, si lo desea, etc. Otro ejemplo podría ser que solicite materiales, equipos o personal para ayudarlo en su trabajo con niños que tienen necesidades especiales. Su entrenador puede observar al niño o niños usando esos materiales, sugerir adaptaciones o alternativas. Los proveedores que no participen en Early Achievers tendrán un asesor asignado. Si no desea trabajar con un entrenador de Aprendizaje Temprano, puede consultar con el equipo de C-RECC.
Does innovative need to be a new strategy or can we take something that we have used and implement it again.
It does not need to be new idea. You can revisit a previous strategy or even expand on a previous strategy, especially if you have data demonstrating effectiveness.  
¿Es necesario que la innovación sea una nueva estrategia o podemos tomar algo que hemos usado e implementarlo nuevamente?
No es necesario que sea una idea nueva. Puede revisar una estrategia anterior o incluso ampliar una estrategia anterior, especialmente si tiene datos que demuestren la efectividad.
How can money for raises go beyond the grant used up?
I can't tell staff they have to give up their raise/benefits because money ran out.
Consideration for sustainability of your proposed strategies is worthwhile ahead of filing your application. If those changes help you consistently serve more children, you should generate more revenue to help sustain your compensation plan. In addition, enhanced subsidy rates that are planned or other funding sources might be an eventual resource for continuation, such as Whatcom County's recently passed Prop 5 – Healthy Childrens Fund.  
¿Cómo puede el dinero para aumentos ir más allá de la subvención utilizada?
No puedo decirle al personal que tienen que renunciar a su aumento/beneficios porque se acabó el dinero.
Vale la pena considerar la sostenibilidad de sus estrategias propuestas antes de presentar su solicitud. Si esos cambios lo ayudan a atender a más niños de manera constante, debe generar más ingresos para ayudar a mantener su plan de compensación. Además, las tasas de subsidio mejoradas que están planificadas u otras fuentes de financiación podrían ser un recurso eventual para la continuación, como la Prop 5 recientemente aprobada del condado de Whatcom: Fondo para niños saludables.
I just submitted my application for the ARPA grant and did not see a place to submit the financial worksheet.  How should I do that?
This application does not require a financial spreadsheet.
Acabo de enviar mi solicitud para la subvención ARPA y no vi un lugar para enviar la hoja de trabajo financiera. ¿Cómo debo hacer eso?
Esta aplicación no requiere una hoja de cálculo financiera.

What level of detail is required in the specific itemization?
The application requires the provider to briefly describe in 300 words or less the use of funds including the amount for each issue you want to solve. Clear itemization will help streamline processing of the application, from the committee review, provider agreement and granting of funds. If the intended use of funds or implementation is unclear to the review committee the provider will be asked for more information.
Que nivel de detalle se requiere en el desglose especifico
La solicitud requiere que el proveedor describa brevemente en 300 palabras o menos el uso de los fondos, incluida la cantidad para cada problema que desea resolver. Un desglose claro ayudará a agilizar el procesamiento de la solicitud, desde la revisión del comité, el acuerdo del proveedor y la concesión de fondos. Si el uso previsto de los fondos o la implementación no está claro para el comité de revisión, se le pedirá al proveedor más información.
What are the post award requirements?
Grant recipients are required to complete a 12-month agreement of business stabilization and technical assistance support with their existing Early Learning Coach and CRECC, NW. Providers who do not participate in Early Achievers will have an assigned coach. If you do not wish to work with an Early Learning coach you can consult with the C-RECC team.  
The provider will be required to submit a monthly progress report to C-RECC. The report format will be given to providers with their provider agreement.
¿Cuáles son los requisitos posteriores a la adjudicación?
Los beneficiarios de la subvención deben completar un acuerdo de 12 meses de estabilización comercial y apoyo de asistencia técnica con su Entrenador de aprendizaje temprano existente y CRECC, NW. Los proveedores que no participen en Early Achievers tendrán un asesor asignado. Si no desea trabajar con un entrenador de Aprendizaje Temprano, puede consultar con el equipo de C-RECC. El proveedor deberá presentar un informe de progreso mensual a C-RECC. El formato del informe se entregará a los proveedores con su contrato de proveedor.
The information requested is asking for sensitive information. Who is monitoring the email inbox and how will the information be kept secure?
The C-RECC inbox is monitored by David Webster our Early Learning and Family Services Department Director, the Assistant Director of our Quality Child Care Division and our C-RECC Manager. Emails from the Opportunity Council/C-RECC are encrypted.
The Opportunity Council has a code of conduct committed to maintaining confidentiality. Confidentiality is critical to our success as an agency and to our ability to help our clients and maintain their trust.
The review committee members have signed a confidentiality agreement.
Any requirement to submit documentation to funders will be done by a professionally secured method.

La información solicitada está solicitando información sensible. ¿Quién está monitoreando la bandeja de entrada del correo electrónico y cómo se mantendrá segura la información?
La bandeja de entrada de C-RECC es monitoreada por David Webster, nuestro Director del Departamento de Servicios Familiares y Aprendizaje Temprano, el Subdirector de nuestra División de Cuidado Infantil de Calidad y nuestro Gerente de C-RECC. Los correos electrónicos del Opportunity Council/C-RECC están encriptados.
El Opportunity Council tiene un código de conducta comprometido a mantener la confidencialidad. La confidencialidad es fundamental para nuestro éxito como agencia y para nuestra capacidad de ayudar a nuestros clientes y mantener su confianza.
Los miembros del comité de revisión han firmado un acuerdo de confidencialidad.
Cualquier requisito para enviar documentación a los financiadores se realizará mediante un método profesionalmente seguro.