Inspiring Peak Performance: Competence, Commitment, and Collaboration Series (Day 3 of 3)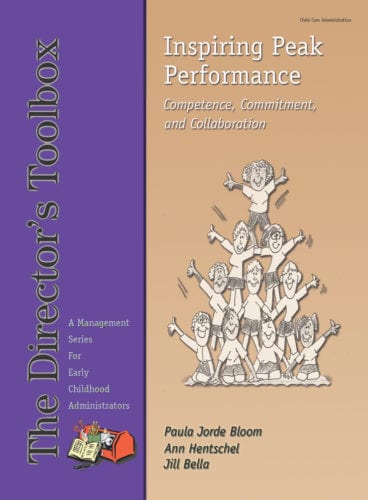 Imagine what your program would look like if it were a true professional learning community-a place where teachers see each new day as an opportunity to expand their competence and confidence and support one another in moving toward a shared vision of program excellence. This workshop presents five strategies-developmental supervision, teacher induction, individual learning plans, peer learning teams, and 360-degree feedback -that together will help you build teacher competence, strengthen staff commitment, and expand opportunities for collaboration to make that vision come alive. This is a three day series that meets on consecutive Wednesdays from 1–3:00 PM.  Registration for all three days is found here.
Training price includes a copy of Inspiring Peak Performance: Competence, Commitment, and Collaboration. 
Dates: June 16, 23, and 30, 2021
Time: 1:00 pm - 3:00 pm
Trainer: Julie Wasilewski and Jamie Ashton
Cost: $40.00
STARS: 6
Core Competencies: Professional Development & Leadership, Level 3. Program Planning & Development 4

Registration Reminders
Up to $250 fee reimbursement may be available through MERIT.
Registration and payment required 48 hours in advance
Full refunds for cancellations are only issued with at least one day advance notice.
Sorry, no refunds are available for last minute cancellations or no-shows. Those arriving more than 15 minutes late will not receive STARS hours or a refund.
Class cancellations will be posted on our training calendar and registrants will be notified.
You should receive an automatic confirmation email within minutes of registering. If you do not receive one, please check your spam or junk mail folders first, then contact us at childcare@oppco.org for us to resend.
Sorry! For online trainings it is not possible to register and pay for more than one person at a time. Please submit a separate registration for each person attending. Thanks!