Enhancing the Quality of Early Learning (EQEL) Year One

IN-PERSON Training for new providers and providers going through the community-based pathway called PACE- Enhancing the Quality of Early Learning (EQEL) – First 10 Hours. 
EQEL is a 20-hour series that meets in-service training requirements and can be completed in two years:
EQEL, or an approved alternative, is required for all new early learning professionals hired after August 2019 that are in the roles of director, assistant director, program supervisor, family home owner, lead teacher and assistant teacher.  
It is also appropriate for family child care home owners, lead teachers, and assistant teachers who are meeting the WAC education requirements through the community-based pathway option called PACE.
EQEL includes foundational best practices about quality environments and early learning that builds on what is introduced in Child Care Basics: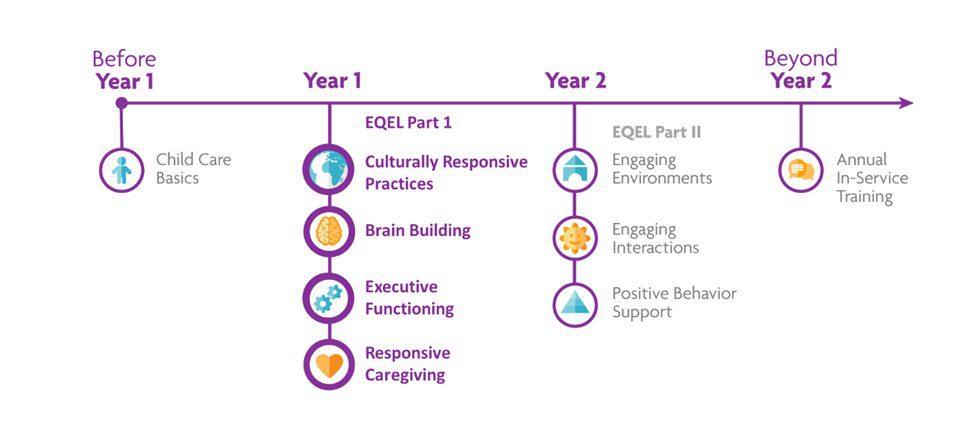 Year 1: Culturally Responsive Practices, Responsive Caregiving, Brain Building, and Executive Functioning.
This training will be held in-person over two sessions:  Part 1 will be held 9:00 AM-3:00 PM on May 14, and Part 2 will be held from 9:00- 3:00 PM on May 21, 2022. Participants must attend both sessions to receive credit for the full 10 Hours.
The Year 1 training introduces the fundamentals of continuous quality improvement and addresses culturally responsive practices, responsive caregiving, brain building, and executive functioning. Registering for the first session registers you for both dates.
Registration deadline Wednesday, May 11, 2022. 
In-Person Format:
We care about your training needs and are glad we can return to in-person trainings. We also care about your health and safety and will be implementing the following protocols to protect you and our instructors at our publicly available classes:
Registering participants are in full compliance with the governor's mandate or you have been granted a medical or religious exemption
All participants are expected to self check against the in-person training attestation form prior to entering the building and signing into the training.
CCANW staff will ensure surfaces will be disinfected prior to class
Class sizes will be limited to 8 participants, spaced 6 feet part (register early to save your seat)
Windows and doors may be at least partially open where possible to encourage air flow (consider layering up)
Masks are required for all participants (please bring your own)
Hand sanitizer will be available in our classrooms
Please bring your own pen/pencil, paper and fidgets (if desired) to avoid sharing materials
If circumstances force our cancellation of in-person classes (or a shift to an online format), we will contact those who are registered. Likewise, if COVID conditions or protocols lead you to want to cancel your attendance, please let us know by noon the day before your class and we will issue you a full refund.
Who is this for and can I register?
This class is only open to new teachers who are required by WAC to take it, or providers who are receiving the initial certificate through the community based pathway, PACE. If you have questions about whether you are required to attend this class, contact your licensor or consult the DCYF website here.
To register, please fill out the registration below to be put on the waiting list. When we can verify that you meet the requirements for this training, your registration will be approved and you will receive an email letting you know.
How Can I take EQEL?
As of January 2021, Year one is offered now with statewide availability. To search for available trainings outside of our training calendar, search MERIT. 
As of  October, 2021, Year two is available. Check MERIT for availability.
DCYF will provide a self-paced version through their training portal. This has not been made available yet.
Dates: May 14 and May 21, 2022
Time: 9:00 am - 3:00 pm
Trainer: Jodi Escalante
Cost: FREE
STARS: 10


Location:
Verdant Health Commission – Cedar Room 4710 196th St. SW
Lynnwood
Snohomish
Looking for something else? Click here to be directed to the full training calendar.
Registration Reminders
Up to $250 fee reimbursement may be available through MERIT.
Registration and payment required 48 hours in advance
Full refunds for cancellations are only issued with at least one day advance notice.
Sorry, no refunds are available for last minute cancellations or no-shows. Those arriving more than 15 minutes late will not receive STARS hours or a refund.
Class cancellations will be posted on our training calendar and registrants will be notified.
You should receive an automatic confirmation email within minutes of registering. If you do not receive one, please check your spam or junk mail folders first, then contact us at childcare@oppco.org for us to resend.
Sorry! For online trainings it is not possible to register and pay for more than one person at a time. Please submit a separate registration for each person attending. Thanks!