Early Achievers Level Two Training: QRIS Strengthening Families for Early Learning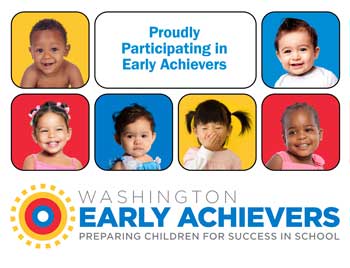 Strengthening Families Protective Factors are a framework for child abuse and neglect prevention and promoting optimal development. The protective factors shift the focus of efforts from family risks to family strengths and resiliency. By recognizing and building on existing strengths within communities and families, we can support all families in providing a healthy, safe, and loving environment for children.
This class takes place over two sessions on March 7 & 8 from 6:00 pm – 9:00 pm.
Date: March 7, 2019
Time: 6:00 pm - 9:00 pm
Trainer: Fran Davidson
Cost: 0.00 for primary or secondary Early Achievers contacts
            60.00 for additional attendees
STARS: 6
Location:
Child Care Aware – Lynnwood Office
3400 188th St SW
Lynnwood
Snohomish 
Registration Reminders
Please register at least 48 hours in advance
Registration not accepted at class - please do not show up without registering with our office
Those arriving more than 15 minutes late will not receive a certificate or refund
Class cancellations will be posted on our training calendar and registrants will be notified
Full refunds will only be issued by calling by 12:00 pm the day before class. No refunds are given after noon deadline
We love children, but not in our classes please.
If you do not receive an email confirming your registration, please contact us at 360.734.8396 ext 227 or childcare@oppco.org.